Did you know that there's a secret hut in the middle of Tokyo?
Well, you'd better believe it...because there is! -This place can be found in the most fashionable area of Tokyo. What is unique and special about this place is that the hut is built right in the cafe! This is a place where you can enjoy the work of one of Japan's most famous artists. -Yoshitomo Nara, who represents the world of "A to Z cafe".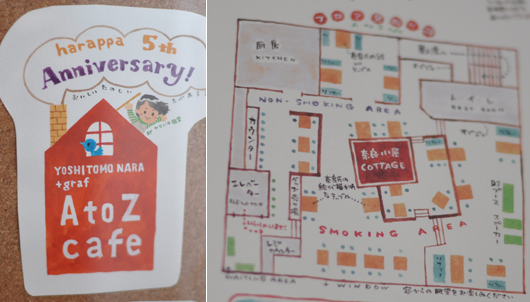 Lovely illustration.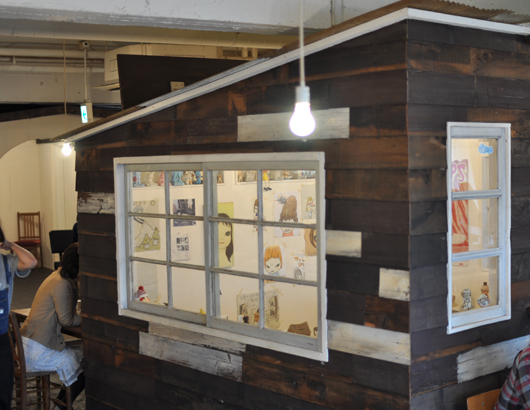 A "Nara hut" is in the center of the cafe.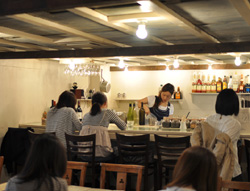 The theme of this cafe comes from the exhibition (project) "A to Z" which is a collaboration from Mr. Nara and the creator group -Graf. It was completed in 2006 by using an old brick warehouse in Hirosaki city (Aomori Prefecture). "A to Z" is a fictitious town that has 26 huts (from A to Z). By walking around the huts one by one, visitors can step into the world that Mr. Nara has created. This fictitious town was never recorded on a map as it existed for only three months. But you can still experience the essence of the town, at A to Z cafe! The concept of the cafe "A special place that is met by various people, and where your mind begins to imagine" is thought provoking.
It is unfortunate not to be able to show the inside of the hut, since taking pictures is prohibited. But this just means that you need to come and experience this world first hand.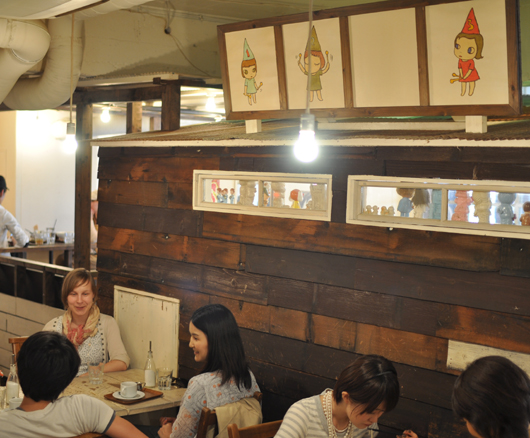 Visitors are chatting and relaxing.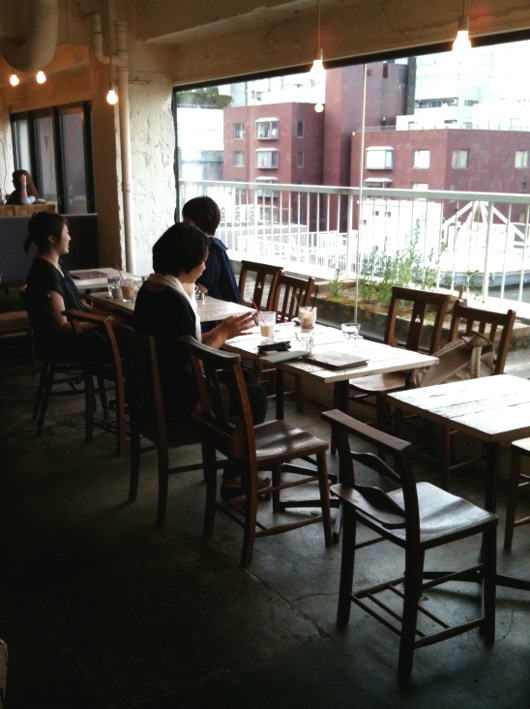 Enjoy the scenery of "Minami Aoyama" (South of Aoyama)!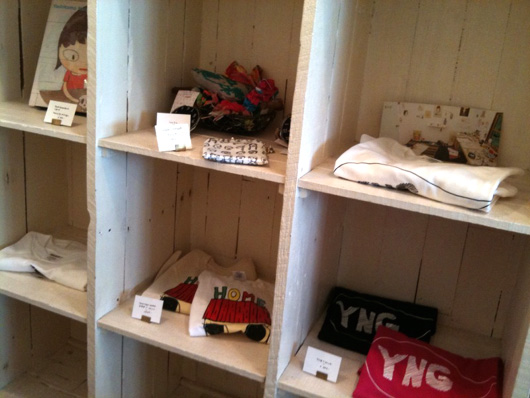 Various goods are sold in the cafe. There is Mr.Nara's illustration!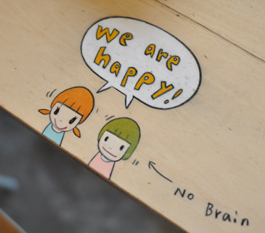 ♪ 
It's been a long time since I've visited A to Z cafe. It reminds me of the days when I used to play with the other kids in the neighborhood. We used to make huts out of bamboo grass, run in the rice field and create secret hiding places near the riverside. This is why it would be so exciting to visit the actual exhibition, "A to Z", in Aomori.
The A to Z project created by Mr.Nara and his team was documented and became a movie in 2007. I recently watched the DVD to learn more about the "A to Z" project; how the project started, how many cities they visited inside and outside of Japan, how the huts were built, what he thought during the creative process and how he speaks (he speaks a dialect from the Tsugaru area in Aomori prefecture!). From the interviews, you can get a good understanding of his personality and character. (He even has a weblog and Twitter!) In watching the DVD, I heard an impactful message from a member of the project team. He said "I wonder if there would be a genre of KOYA (hunt) that could be the focus for a painting or sculpture. Creating KOYA (hunt) is so in depth." Isn't it wonderful idea? I would like to see all KOYA in different regions in Japan! If the local artists, local government and citizens collaborate, there will surely be magnificent artwork all over Japan!
〔Information〕
A to Z cafe
equbo building 5 Floor, 5-8-3 Minami-Aoyama, Minato Ku, Tokyo
TEL/FAX:03-5464-0281
Business Hours: 12:00~23:30
For more detail, please visit
http://atozcafe.exblog.jp/
※Japanese