I was at the entrance of
the A to Z Café
, when I noticed a message board which read, "The rooftop terrace is now open. For more details, please ask the staff!" I asked the staff immediately. I discovered that there is a Rooftop Wine Bar. This was the first time I had heard about the rooftop, although I had visited the cafe several times before. I was very curious to see what it looked like so I asked this particular staff member to be my "tour guide". After a short while, another staff member joined us and took me to the special rooftop. Having to walk through the Nara hut, I found the door to this rooftop to be in such an unexpected place.
You can see stairs when the door is opened. And …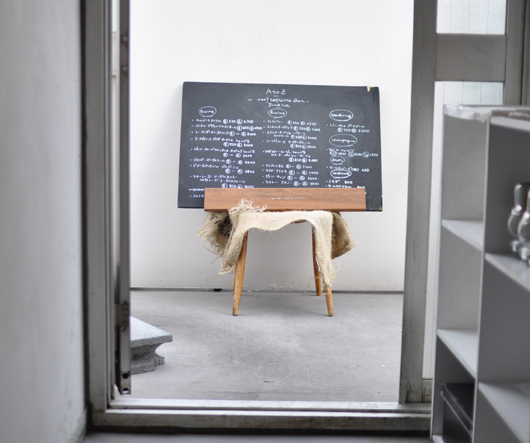 Entrance to the rooftop terrace, and the menu presented on a blackboard.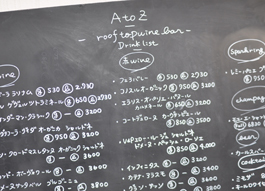 The menu on the blackboard is exclusive to the rooftop terrace. It was also interesting to discover that the rooftop transforms into a wine bar at night. During teatime, they serve drinks such as coffee and tea, desserts such as cake rolls and parfaits, and foods such as "Donburi(over rice)" and omelettes with rice. The rooftop offers tables that seat four, which makes you feel a part of the whole terrace.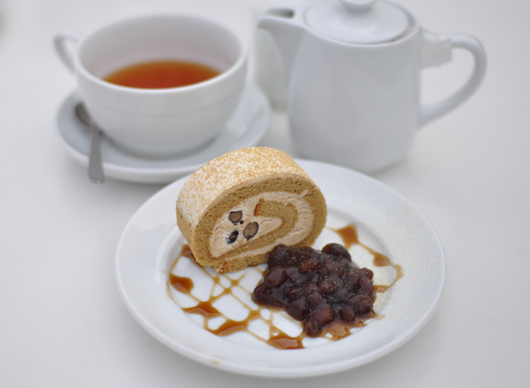 A set consisting of the red bean roll cake with black honey and tea (850 yen)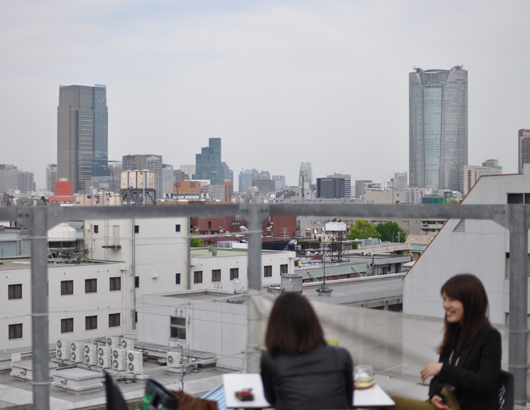 The main building in Tokyo Midtown (left) and Roppongi Hills (right)
♪
I think that this rooftop is a splendid location to enjoy drinking and eating with your friends this summer. Note, it can get a little windy...If it's cold, please ask the staff to bring your party a blanket! Since it's a place known to few people, you may be lucky enough to come across some Japanese celebrities!
〔Shop information〕
A to Z cafe -Rooftop Wine Bar-
equbo building 5 Floor, 5-8-3 Minami-Aoyama, Minato Ku, Tokyo
TEL/FAX:03-5464-0281
Business Hours: 12:00~23:30
For more details, please visit
http://atozcafe.exblog.jp/
※Japanese