One afternoon, under the heat of the sun, I suddenly heard the music that began flowing (in the French style café) that could be heard whilewalking in Shimokitazawa.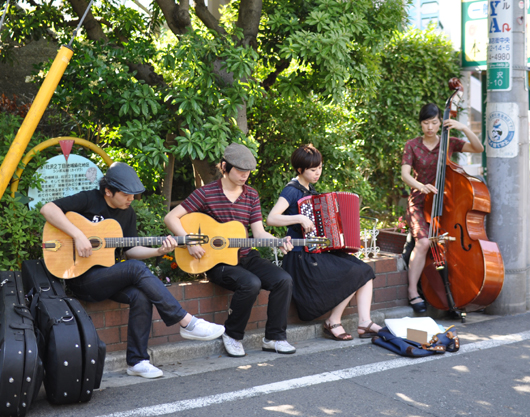 This place is near the entrance of the Azuma shopping street.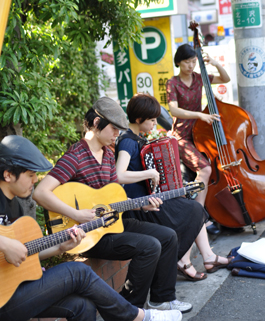 Musicians were performing under the shadow of a tree, keeping out of the sunlight. There was a live performance with three musical instruments; the acoustic guitar, accordion and cello!
After the performance, I approached the musiciansto talk. The name of four person group is "Mon Petit(as we pronounce Mon-puchi)". It's a lovely name, isn't it? The group naturally came about, and it was their 2nd performance. Since they have suchbeautiful instruments, I wondered if they werestudents of a music University. I discovered thatthey were all amateurs! Then I realized that theydon't read the musical score. They revealed that there are images for each song, so they don't need exact scores. I thought of the saying "We tend to be good at those things we like." I thought theperformance of the four members was really cute and chic.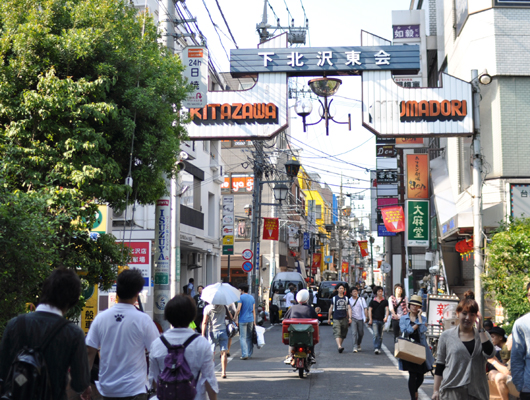 There is a special aura around them!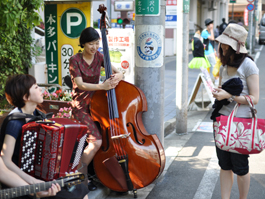 And this time, I asked them to videotape their performance for you!
In the video, there are a lot of people, cars andbicycles that are passsing. This demonstrates the laid-back mood in Shimokitazawa. The town has a really mellow feel. Now, let's click the YouTubebutton below and enjoy!
♪
They enjoyed their performance because they like music. Guests were also appreciating their performances by smiling from across the road. "Mon Petit" has four members now, but in the near future, the members and the instruments may grow...!? I can't wait to visit Shimokita to check them out again!