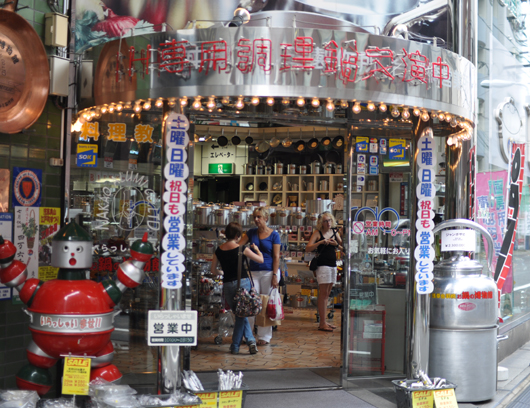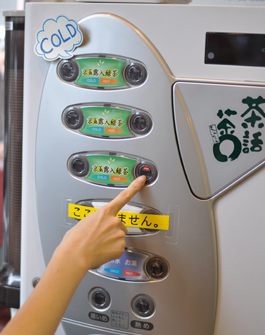 As I mentioned last time, Kappa bashi is afamous wholesale district. You can findJapanese plates, utensils, cooking devices, galley units (kitchen utilities), samples and so on. After visiting the
Japanese craft shop,"SUGAMANI"
, I walked around and looked ateach store curiously. Suddenly, I spotted an eye-catching shop far away. Approaching the shop, I could read the name on the board,"The museum of the pan".
I wandered and found my way into the place.Inside, I discovered knives, frying pans, pressure cookers, heavy-bottomed saucepansand Chinese woks. It seemed to be a cooking device shop. Near the entrance, there was a green tea machine. Very nice service, especially this season!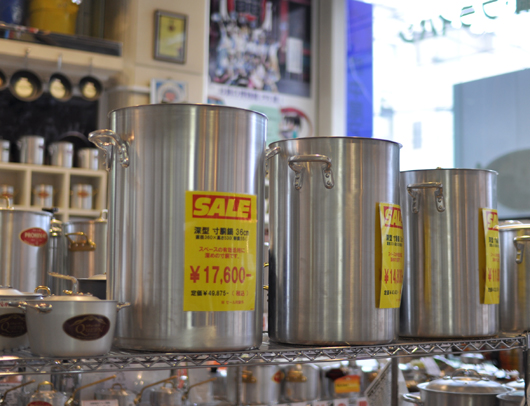 Looking around the shop, there were pans everywhere!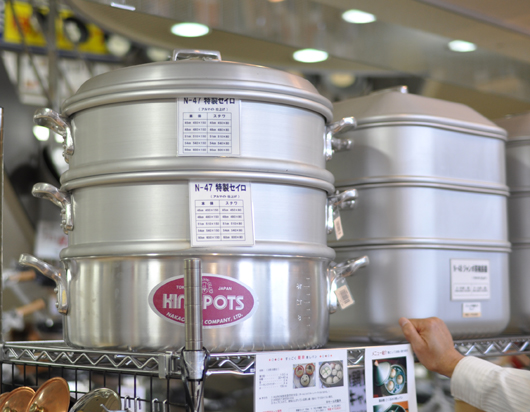 So much variety. Now you can understand why it's called a museum, huh?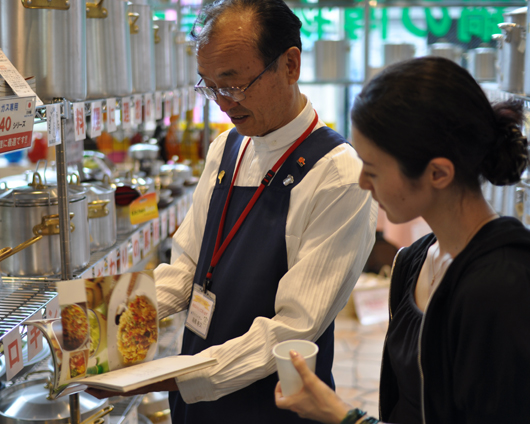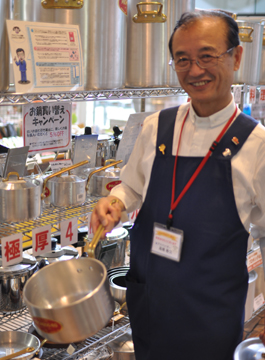 I said "There's a lot of pans!" to the shop staff. And he replied, "Isn't it great?" with an indulgent smile. After that, he talked about cooking using pans. In this shop, the sizes ranged from 15 cm to 60cm by 3cm.
He also told me an interesting story. When he introduces the product, he makes it a rule to ask the customers what they want to cook. And then, he leads them to the appropriate section (of pans) to explain in detail. I thought this sales strategy to be really effective. Customers can visualize a timewhen they are cooking. He showed me the best pan to cook a western dish. The pan wasthicker and heavier than the one I always use at home.
He also told me that it's really important to sharpen a knife before cooking. Using a well sharpened knife enables the cells of food totake hold so that you can taste the natural flavor of the food. I see!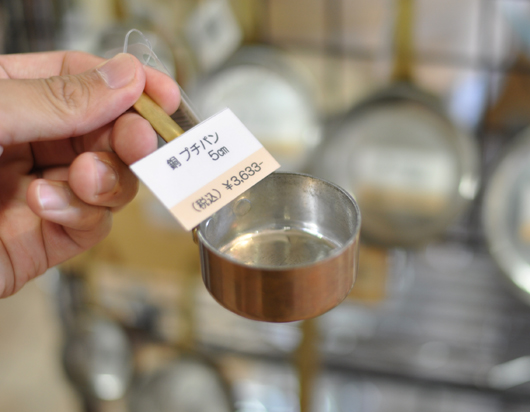 The color of the new pan is really clear!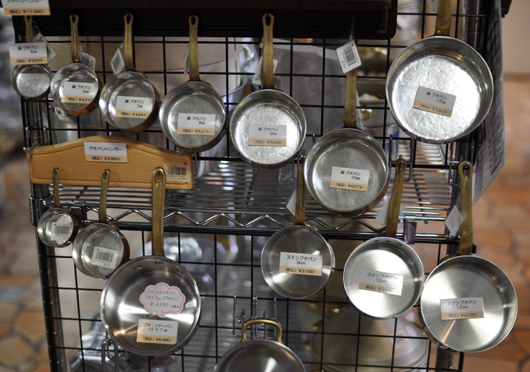 Hun. What kind of food would you like to cook with using those pans?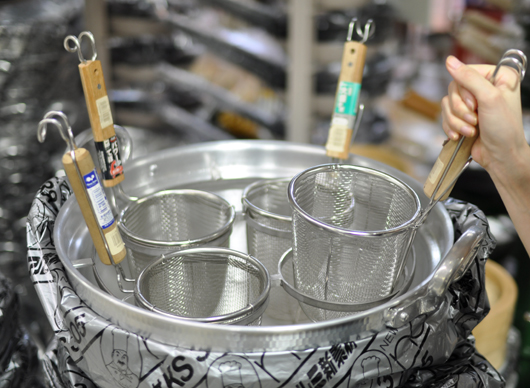 I found a utensil that we usually see at the noodle shop!
One of the staff members tried to imitate the staff at the noodle shop. It was so real that Icould almost hear the sound of boiling water. Funny!
♪
I searched around the shop after. It was the showroom of Nakao Alumi Co. In the shop, there were so many tourists. It came as a fresh reminder that the passion for cooking is common in all countries. And it's amazing to feel that I would cook anything if I had allthese cooking utensils!

This is the icon robot of Nakao Alumi Co. His name is "F-Robot 72". The company provides aluminum products so that they can create not only pans but robots! (Of course, their main business is not creating robots though…) This is an icon for the shop, but you can buy this F-Robot 72. It sells for 9,500,000yen! Even if it's sold, they can produce another one. This means, they know how to have fun!!!
〔Information〕
The museum of the pan
2-21-4, Nishi Asakusa, Tokyo
TEL:03-5830-2511
FAX:03-5830-2513
HP:
http://www.nakao-alumi.jp/museum_pr.html