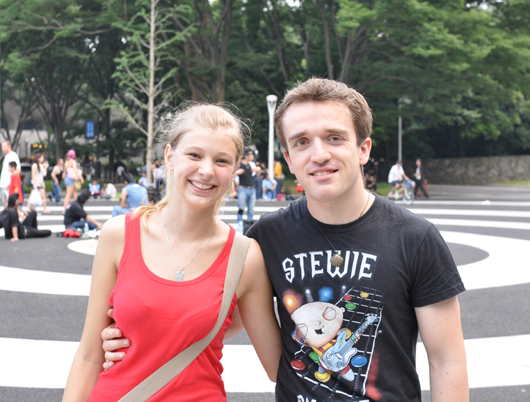 After watching a special dance and talking with Yosuke
, I spoke with other visitors from abroad.
At first, I approached two young visitors from Germany. In fact, they were back packers. They came to visit Tokyo via Australia. I asked how they came to visit the city. They answered "Actually, we wanted to see Gothic Lollita Fashion, but there was no one there near the station. So we came here. By the way, the dance was really cool! " It seemedthat they really enjoyed the dance. It alsoseemed that Gothic-Lollita fashion enthusiastscame to this famous place on Saturday. Theywere exposed to the special fashion through the Internet. They also visited the inside ofYoyogi park. They said with excited voices,"There were also many interesting and unique people in the park! So cool!!".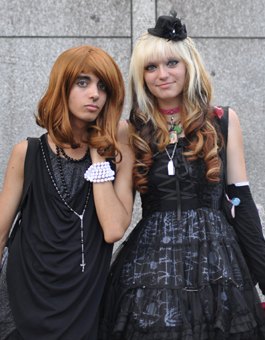 Then, I approached another man. He was aphotographer from Brooklyn, NY. He told me about his impression of the Harajuku area. According to him, "I usually take photos of Africa, but I personally think that this Harajuku area is one of the best, unique places in the world. I could take many interesting photos!" He said with calm voice.
Near Harajuku station, I happenned to meet Gothic Lollita fashion enthusiasts from abroad! They came from Spain and Czech. "Where did you buy the cute dress?" I asked. She said that she bought it at a clothing shop in Harajuku! Of course, she looks really happy. I also asked about the key point of their fashion. They said, "We don't imitate Gothic Lollita fashion perfectly. We coordinate by ourselves." It was the third time they had visited the Harajuku area during their trip. They do like Japanese Pop Culture, so they study the Japanese language and culture through the Internet and by reading manga. This means that they can speak three languages at least?! Wow!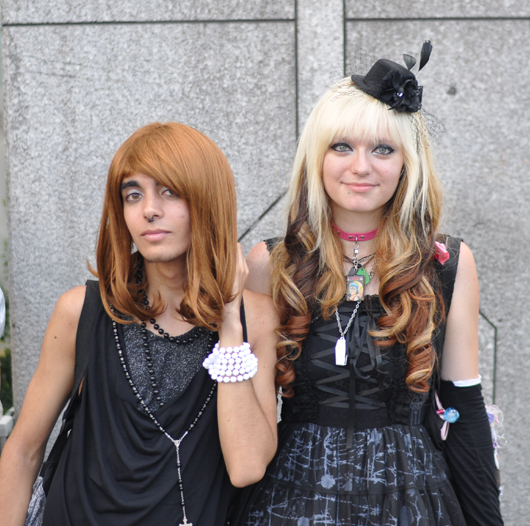 They are really friendly and cute!
♪
I wanted to speak with more people from abroad. I will try to interview more people next time. I am sure that I can sharewonderful stories. Anyway, what I was shocked about was that one of the interviewee from Czech was wearing the neckless which the character (that I don't know) was printed. She said that "I am a big fan of ○○○○(the name of the character)!!!". Funnn…it seems that Japanese pop culture is really deep. When I said good bye to them, they said "Ja-a-ne!"(means, good-bye in casual Japanese) and waved. Cool!